Internet of Things (IoT) is an interconnected network of physical things, IoT devices or assets with internet and other networks. The Internet of Things has opened up a new, virtually inexhaustible source of technical innovations, which are equally valuable for a broad variety of industries.
'Internet of Things' connected devices to triple by 2021, reaching over 46 billion units.
As the research shows the increasing number of IoT devices, to create business values in a smart, connected world, you need to identify and prioritize the right IoT uses cases. The following are the key use cases of the IoT:-
Marketing and Sales
Industrial monitoring and Automation
Healthcare
Smart Energy
Consumer Electronics
Smart Agriculture
Logistics
In this post, we will discuss the IoT use cases in Healthcare.
IoT for healthcare
IoT has lots of applications in healthcare that benefit patients, families and physicians alike. Some hospitals are using it to monitor the health of the patients while some are using IoT to keep track of their inventory and medical supplies.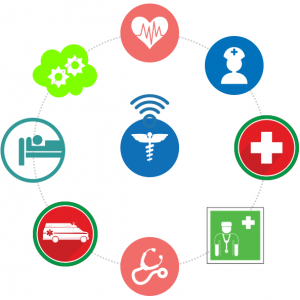 The major advantages of the Internet of Things in healthcare are following:-
Decreased Costs
Improved Outcomes of Treatment
Improved Disease Management
Reduced Errors
Enhanced Patient Experience
Enhanced Management of Drugs
Here are the some of primary use cases of IoT in healthcare:-
Remote health monitoring
Remote health monitoring, for now, is the major IoT use case in smart healthcare. The global smart healthcare market is expected to reach $169.30 billion by 2020. Remote health monitoring, which is obviously very possible thanks to the Internet of Things, also partially helps solve the rise of chronic diseases, among others due to an aging population. Remote health monitoring is also ideal when patients live in remote areas.
There is a broad range of (specialized) wearables and biosensors, along with other medical devices, available today that enables remote health monitoring.
Remote health monitoring also offers the possibility to detect patterns, leveraging the data coming from these wearables and other devices. This enables new insights and visualizations of patterns as the combination of (big) data, analytics, IoT and so forth tends to do.
Medical device integration
IoT can save lives if the medical devices can share data. With IoT we can collect data and statistics on vital signs of patients and bring it into the cycle of care delivery system. We can monitor heart rate, blood pressure and other medical data of the patients in real-time. These collections of data help to detect patterns and take run-time decisions for patients health.
Take a scenario where a patient's medical profile, vital parameters, and dialysis machine inputs are captured with the help of medical devices attached to his body. The patient does not even have to move from facility to facility to receive treatment. Rather, he can get his dialysis done with the help of a portable/home machine designed for the purpose. Data gathered from this device is analyzed and stored, and the aggregation from multiple sensors and medical devices helps make informed decisions in a timely manner.
Medical workflow optimization
With help of integrated medical equipment and monitoring devices, the patients' vitals are stored to a shared infrastructure. The shared infrastructure automates data handoffs, helping physicians retrieve patient-related data faster without toggling between systems. Patients also stand to gain from this integrated system as it empowers them to demand care of the highest order and choose their own treatment plans. By using wireless infrastructure and tagging devices like a wristband or RFID badges, hospitals can manage throughput.
Challenges
Integration of IoT with healthcare is not without significant challenges and bottlenecks. Although the Internet of Things is transformational in the healthcare sector, it also presents a number of challenges given that health data is sensitive.
Managing device diversity and interoperability
In IoT for healthcare, a verity of devices and equipment, located at home or clinic, connects to the backend database via aggregation devices or gateway installed at the site. Commonly accepted standards of network interface are required between the devices and the aggregation device. Also, the data format that is provided to backend database should use certain approved standards for data interoperability.
Data privacy
Data collected from medical devices is sensitive and must be protected from unauthorized access and usage. The data should be used only for the specific purpose for which the patient was agreed that data can be collected. The rules or policies to share this medical data with authorized persons and applications must be strictly followed, and data securitization be given utmost importance.
Need for medical expertise
Collecting data from devices is not the solution for healthcare. Diagnosis and detection of alert conditions is aided by automated decision support systems where rules/decision trees are provided by trained physicians, customized for each condition and patient. IoT will need medical expertise to design these rules so the system can take the automated decision.
Examples of Internet of Things in Healthcare
As the study shows, there will be a revolution in treatment and diagnosis with the Internet of Things in upcoming time. Here are few examples of IoT in the healthcare industry.
OpenAPS
One of the fascinating areas in IoT medicine is the open source initiative OpenAPS, which stands for open artificial pancreas system. OpenAPS is an open and transparent effort to make safe and effective basic Artificial Pancreas System (APS) technology widely available to more quickly improve and save as many lives as possible and reduce the burden of Type 1 diabetes.
OpenAPS is a simplified Artificial Pancreas System (APS) designed to automatically adjust an insulin pump's basal insulin delivery to keep blood glucose (BG) in a safe range overnight and between meals. It does this by communicating with an insulin pump to obtain details of all recent insulin dosing (basal and boluses), by communicating with a Continuous Glucose Monitor (CGM) to obtain current and recent BG estimates, and by issuing commands to the insulin pump to adjust temporary basal rates as needed.
Activity trackers during cancer treatment
Medidata, the leading global provider of cloud-based solutions for clinical research in life sciences, is collaborating with Memorial Sloan Kettering Cancer Center (MSK) to expand the use of mobile health (mHealth) technology in oncology treatment.
Through the collaboration, Medidata and MSK will assess the viability of deploying wearable sensors and mobile technology to evaluate the quality of life during cancer treatment. MSK will use activity trackers, mobile apps, and Medidata's cloud technology platform to study patterns of movement in patients being treated for multiple myeloma.
DocBox
DocBox is developing an innovative clinical process management solution for hospitals that promises to help clinicians eliminate medical mistakes, improve clinical workflow and processes, and free up much of the time spent on administrative duties so that they, and particularly nurses, can focus on providing care.
Major players in IoT Healthcare
As the use of IoT in Healthcare is increasing day by day there are many industries providing their services in this area. Let's take a look at some of the top IoT players in healthcare:-
Medtronic Plc
Medtronic is one of the leading Medical device manufacturers. Medtronic is using sensor technology to explore and develop potential solutions to some of the world's most pressing health problems.
Cisco Systems Inc.
Cisco empowers healthcare innovation, helping you simplify and securely transform your organization to improve outcomes. Cisco provides services to facilitate security and compliance, personalize the patient experience, enable remote care and collaboration and many more. It provides the solution for the security challenges in healthcare.
IBM Corporation
IBM Watson Health is one of the top players in the IoT who is providing solutions and support to achieve the remarkable outcome, accelerate discovery, make essential connections and gain confidence on their path to solving the world's biggest health challenges.
Qualcomm Life
Qualcomm Life is highlighting the cost savings that can be achieved through the intelligent integration of patient data across care settings. Qualcomm Life is the 'always on' medical-grade connectivity network trusted by major health care companies globally. It securely manage near real-time medical device and therapy data that surrounds the patient—enabling intelligent care anywhere, anytime.
This is not all, there are some other big players like Honeywell Life Care Solutions, Stanley Healthcare, GE Healthcare, Microsoft Corporation etc.
With this overview, we have covered some of the use cases and challenges of the Internet of Things (IoT) in healthcare. There are still a lot of things to explore in this field.